Connecting steel wire tools, forging innovations and shaping the future of technology
Join us at the world's leading wire and steel rolling exhibitions!
The Wire 2024 exhibition in Düsseldorf, Germany from April 15th to 19th 2024, UKO will be there again. Our booth number is 14A38-6 hall 6.
My colleagues Penny, Carolyn, and Mrya were so excited to participate in this grand exhibition and build more connections with our customers.
Please kindly leave your contact information in the following sheet if you have a plan to attend the fair, we will be more than happy to meet you.
The time Düsseldorf, Germany the Wire 2018 brought us many friends and new business chance and we are quite happy to join the event.
We met many old friends, partners and new visitors during the 5-day exhibition, gaining many timely market information and helped us in our business plan for the next years.
After the exhibition, we enjoyed a pleasant tour of Brussels and Paris and visited famous scenic spots.

UKO exhibited on the Interwire Atlanta USA from 9 to 11 May 2017.
Exhibitors, visitors & Members of the wire industry from various directions consulting bring us more ideas to improve tungsten carbide wire tools, marketing and service.
Thanks to their talks and thinking, all that will help UKO to be a better player in the wire industry.
Wish to see you in next Fair.
Wire 2016 exhibition in Düsseldorf, Germany took place from April 4th to April 8th, and UKO attracted 69 customers who have been built a long-term cooperation with us from then on.
It's really wonderful to make new connections and gain valuable market information. The successful event prompted UKO to work out exhibition and advertisement plans in the coming years soon. All UKO staff are moving fast by these guiding orientations.

UKO exhibited on the wire 2016 in Shanghai China from 26 – 29 September 2016 and our booth in hall W5 stand F72.
Gathered with international pavilions and worldwide leading brands, the latest industry technologies to be displayed With a growth of 18 percent, covering over 67,000 square meters, the trade fair wire China 2016 has created a new record: the Industry-wide product coverage will be presented by more than 1,650 brands.
And more than 40,000 professional visitors, which come from over 20 fields related to the wire & cable industry, iron steel and non-ferrous metal industry, automotive supply, and aerospace engineering industry, are expected to attend the fair.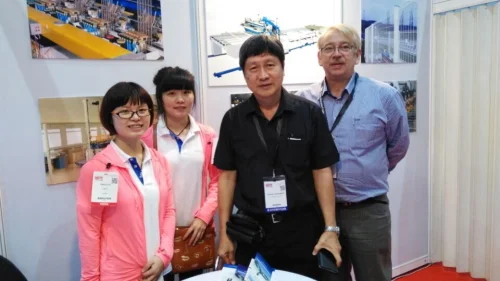 UKO took part in the Wire Southeast Asia 2015, Bangkok Thailand from 16th to 18th September 2015.
29 September 2015 – Following an eventful 3-day exhibition that had the show floor buzzing with activities, the 11th International Wire and Cable Trade Fair for Southeast Asia and the 10th International Tube and Pipe Trade Fair for Southeast Asia came to a successful close on 18 September.
The construed synergistic exhibitions were presented by 411 internationally prominent companies from 33 countries, including 7 National Pavilions and country groups from Austria, China, Germany, Italy, Taiwan, the UK and USA. At closing, wire and Tube Southeast ASIA 2015 welcomed 7144 international trade visitors from 56 countries.
Almost 33% of these visitors came from outside Thailand, from countries such as Bangladesh, India, Malaysia, Singapore, Taiwan, Indonesia, Myanmar and Pakistan as well as visiting delegations from China, Japan, Korea and Vietnam, manifesting wire and Tube Southeast ASIA 2015 as the regional platform for the wire and tube industries. The trade fairs also received visits by 73 local factories from Bangkok Steel Wire, Bangkok Cable, Kulthorn Materials & Control, Thai Wire Products, among others.
UKO exhibited in the Wire China 2014 in Shanghai from 24th to 27th September, hall W5 stand C16 and enjoyed pleasant face-to-face talking with customers from various directions.
ANKIROS International Iron-Steel & Foundry Technology,
Machinery and Products Trade Fair, which is held biennially in Turkey, is an international exhibition on the foundry and iron steel industry.
The exhibition ANKIROS is called to satisfy the vital requirements of the Turkish iron and steel industry in modern technologies of production and trade in the world market.
Focused on increasing equipment value and market value